Welcome, inclusion and integration
We're all strangers somewhere. When it comes to immigration or lengthy trips, three words often come up: welcome, inclusion and integration. These words may seem synonymous, but they don't quite mean the same thing.
Let's take a look at some tried and true references.
First, here are the definitions found in the Oxford dictionary:
Welcome (noun)
Something that you do or say to somebody when they arrive, especially something that makes them feel you are happy to see them.
Example : Thank you for your warm welcome.
Synonyms: greeting and acceptance.
Inclusion (noun)
The fact of including someone or something; the fact of being included.
Synonyms: insertion and involvement
Integration (noun)
The act or process of mixing people who have previously been separated.
But what do these terms really mean?
Those who work with people living with disabilities are very familiar with the explanations below, but these definitions apply equally well to newcomers.
Integration refers to the insertion of people into systems created for the community, such as schools or companies. The individual bears the responsibility of integrating.
Inclusion, on the other hand, is the effort made to ensure that everyone can participate fully in society on the basis of equal rights. Society plays an active role in an individual's inclusion.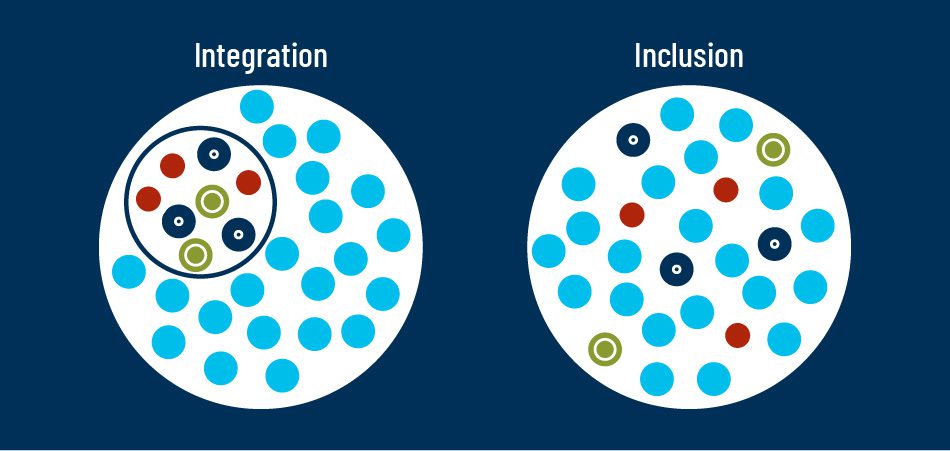 Do you now understand the subtle differences between these terms?
A few tips for you
As a Welcoming Francophone Community, it's important for us to help you not only understand and use these terms correctly, but also to apply these principles. To this end, below are a few tips to help welcome, include and integrate newcomers into your inner circle.
How to warmly welcome newcomers to Hawkesbury
Tip 1: Just say, "Hello!" or "Have a nice day!" A greeting with a smile shows people that they're welcome in the neighbourhood.
Tip 2: Introduce yourself. Nowadays, going out of your way to get to know your new neighbours is increasingly rare, but it's a very valuable practice. When you initiate contact, newcomers know they have someone to turn to if they have questions or challenges.
Tip 3: Some immigrants have to sell most of their belongings to come to Canada. A great way to make them feel welcome in the community, as well as to meet their basic needs, is to give them a welcome basket. You can fill it with necessities, such as personal care products, non-perishable food, information about the neighbourhood, and even games and toys that are in good condition for families with young children.
How can you include someone in your community?
Tip 1: Invite a single person, couple or family to join in your favourite activities. Show them your favourite places, which may not be in the guidebooks. Introduce them to the neighbourhood, family members and friends.
Tip 2: Show interest in their culture. Once you've established an initial connection, encourage them to share their experiences, culture or recipes, for example. These types of exchanges are always very rewarding.
What does it take to feel like part of a community?
Five aspects need to be taken into account in order to consider integration successful. These aren't steps to be followed, but rather basic goals aimed at achieving full integration into a new environment.
The 5 aspects are:
Economic: Getting a job
Residential: Having stable housing
Social: Getting to know people, developing friendships or belonging to a group
Cultural: Understanding and assimilating the cultural aspects of the new country
Linguistic: Understanding frequently spoken languages

According to a range of surveys, the majority of newcomers consider language to be one of the greatest challenges to their integration. They would like to practise French with those who will give them the opportunity. Language courses are a great way to meet people! In Hawkesbury and the surrounding area, several organizations offer these types of courses, including the Moi j'apprends centre (French only), the Centre d'éducation et de formation de l'Est ontarien (CÉFEO) (French only) and La Cité college (French only).
These aspects are interrelated. For example:
Understanding French and English can help newcomers get a job and make friends.
A job provides the financial security newcomers need to get housing.
A job and housing make it easier for newcomers to meet new people.
Having friends helps newcomers understand the local culture.
Taking part in local cultural activities allows newcomers to meet new people.
We hope that this article has helped you better understand and differentiate between the concepts of welcome, inclusion and integration.
For more content, remember to follow us on social media!