When immigrating to a new country, it's important to plan carefully before you leave. Here is some information to help you prepare for your arrival in Hawkesbury, Ontario, Canada. This page covers various aspects of everyday life in our town. For more information on nearby services, please consult the directory (French only).
Please note: Most of the links in this section lead to other websites where you can find more information on a given topic.
"The Town of Hawkesbury believes that the strength of a community can often be measured by the health and wellness of the members within it. Whether you are a part of a family or on your own, you will enjoy discovering our sports, community and cultural activities. The Recreation, Culture and Community Life Team is made up of more than thirty staff members who together offer, season after season, programming that is diversified and dynamic."
— Corporation of the Town of Hawkesbury
Hawkesbury residents get around mainly by car, moped, bicycle and on foot.
Getting an Ontario driver's licence is a three-step process. Drivers graduate from G1 to G2 and then ultimately to G driver's licences. Conditions apply for G1 and G2 licence holders. To apply for a driver's licence in Ontario, you must be 16 years of age or older and pass a vision test and a knowledge test. Certain documents are also required.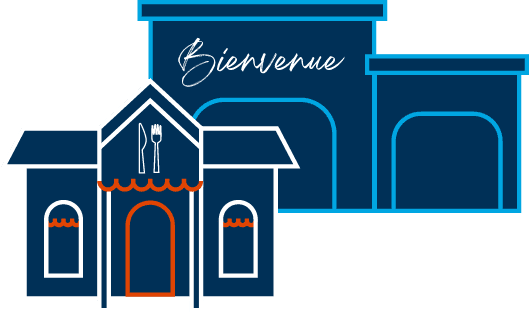 The Town of Hawkesbury is home to many shops and charming boutiques to suit every need. The region also offers a surprising selection of restaurants that will satisfy most tastes. Seasonal fruit and vegetable stands also pop up every summer.
The quickest way to find a store, shop or restaurant is to type the following keywords into Google:
Hawkesbury Ontario restaurant
Hawkesbury Ontario store
If you're looking for appliances, furniture or other second-hand items, Kijiji and Facebook Marketplace are very popular in the region.
Need advice and resources to help you settle in Hawkesbury? 
Moving to an unfamiliar place can be scary and complicated. We have tried to gather all the information that could be useful to you. You will also find some practical advice.
The city is located between two major cities, Ottawa, Ontario, the capital of Canada, and Montréal, Quebec. This explains why the French language and heritage are so important to its population.
In Ontario, school is mandatory for children aged 5 to 16.
According to the Canadian Charter of Rights and Freedoms, Francophone parents have the right to enrol their children in a French-language school from kindergarten onwards (ages three to five, depending on a child's date of birth).
Hawkesbury is an inclusive town with many places of worship for you to practise your faith.
You can visit the websites of Canadian banking institutions to find a bank or credit union that's right for you. You'll need to go into a branch to open a bank account.
There is space... a lot of space! The air is fresh, we have four distinct seasons and the landscapes are very vast!